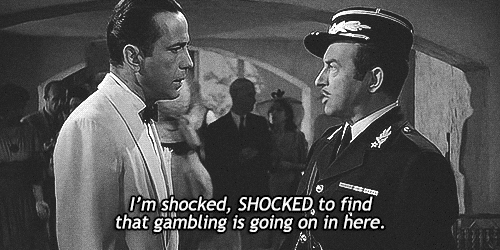 CNN is shocked, SHOCKED, to find out that Donald Trump
said some bad things years ago.
Well, isn't this something! While we all wait for Commissioner Gordon to call an emergency meeting of Gotham City Council, we sit in stunned disbelief over the cartoonish hypocrisy of the media. These wretched human beings spend 24/7 ramming their pro-sodomy, pro-abortion, pro-perversion agenda down the throats of the American people, and now here they are pretending to faint away in horror over Donald Trump's potty-mouthed locker-room banter eleven years ago.
Shame on Donald Trump, scold the media hypocrites… for talking about the vile things Bill Clinton actually did—things which Grandma Clinton covered up, smoothed over, lied about and denied. Sure, Trump's horrific banter would be a campaign killer in the America in which I grew up. But today? In 2016…after decades of perversion-peddling by the most powerful people in government, media and entertainment? The word "pervert" itself has lost its meaning under the watch of these perverts. These same charlatans screaming for Donald Trump's head today, spent the last year demanding that men be given the right to use girls' showers and restrooms all over America.